Reporting
All First Mile customers have access to industry-leading reporting tools through their online portal to help them understand their waste, recycle more and achieve their sustainability goals.
Our reporting gives customers full visibility of their waste streams and materials, recycling rate and carbon data – helping them effectively manage their waste and track their scope 3 emissions.
Data can be accessed and managed for multiple sites and locations using cutting-edge Recycle ID™ technology coupled with accurate, near-to-real-time data from on-site weighing and tracked bins weighed at our award-winning Sacktory.
Carbon Reporting
Customers who sign up with First Mile will gain access to market-leading carbon reporting insights to assist you on your journey towards net-zero.
We conduct ongoing detailed carbon analysis of all our services, reviewing First Mile vehicle data, data-driven between collections and the end destination process for each material to provide a highly accurate carbon report.
Track Scope 3 Emissions
Our Smart Fleet and range of zero-to-landfill services will also lower your Scope 3 Emissions, helping your business meet its sustainability targets.
Track your progress in reducing Scope 3 emissions with multi-level tracking, from total, brand, group and location in line with Government Scope 3 reporting guidelines.
How does bin weighing work?
Once collected by our team, we take your waste and recycling to our award-winning Sacktory site, where it's weighed and sorted for recycling.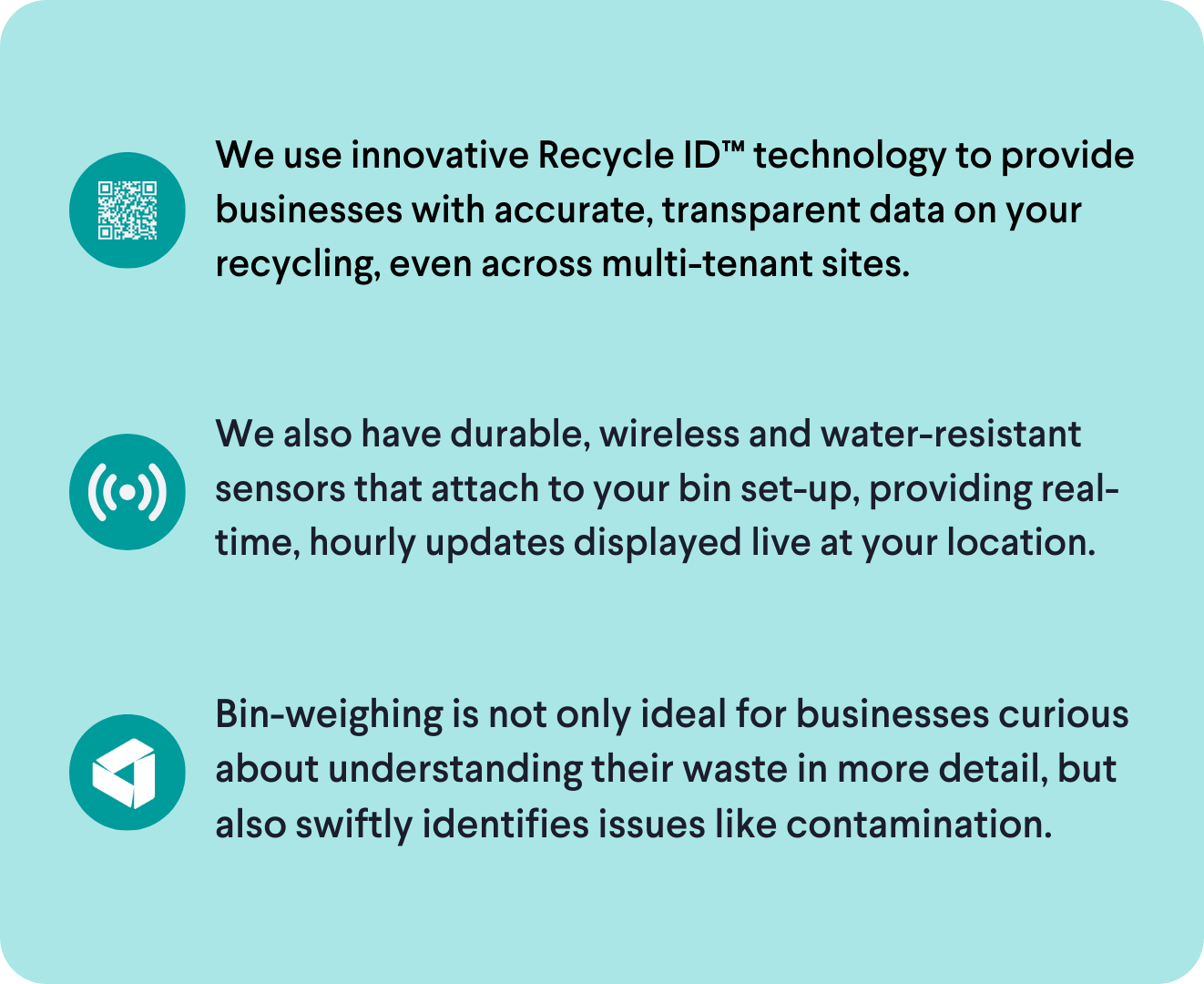 Celebrate your recycling achievements
As well as giving our customers the tools and support to achieve their recycling goals, we believe in the power of celebrating achievements and to reflect on the fantastic efforts made by your employees and customers to reduce their carbon emissions.
Each year, all of our customers receive an award for their recycling efforts and carbon saved through working with First Mile.
We send every customer a recycling certificate, embeddable website widget, reusable window sticker and social media assets to share their sustainability efforts with their workforce, customers and fans.
We support businesses throughout the year to 'Go for Gold' with our range of circular economy recycling services.


Some of our valued clients
Bin weighing
Bin weighing technology at our award-winning Sacktory site means that we have accurate data on the quantity of waste disposed of by businesses. First Mile weigh bins and track back to individual customers using our Recycle ID bag tracking technology. This ensures our customers have a clear view on how to recycle their waste effectively.
Additionally, our onsite bin weighing is not only perfect for customers curious about understanding their waste in more detail, but also for swiftly identifying issues and isolated events such as contamination.
Our durable, wireless & water-resistant sensors can be attached to your bin set-up and provide real-time hourly updates which can be displayed live around your location, showing stats such as recycling rate and which streams you recycle the most.