We are First Mile energy
We are First Mile Energy – powering your business with 100% renewable energy, powered by Octopus Energy.

Switching to First Mile energy is good for your pocket, good for the planet and definitely good for your business.

Get a quote today and see how much you could save. Plus get £100 free credit when you sign up!
Why you'll love First Mile energy
Get your business energy quote in seconds, and we'll help organise the switch. We've got a handy template and information on how to cancel your current contract fuss free.
Our tariffs are 100% renewable. What's more, you can see the CO2 saving of your new business electricity and gas services in a free monthly report.
Our energy prices are checked regularly to ensure they are always competitive. And once you'll all signed up with us, we'll credit your account with £100 as a welcome gift too.
No engineer visits needed, and no disruption to your electricity and gas service. We can make the switch without needing to schedule a visit to your business.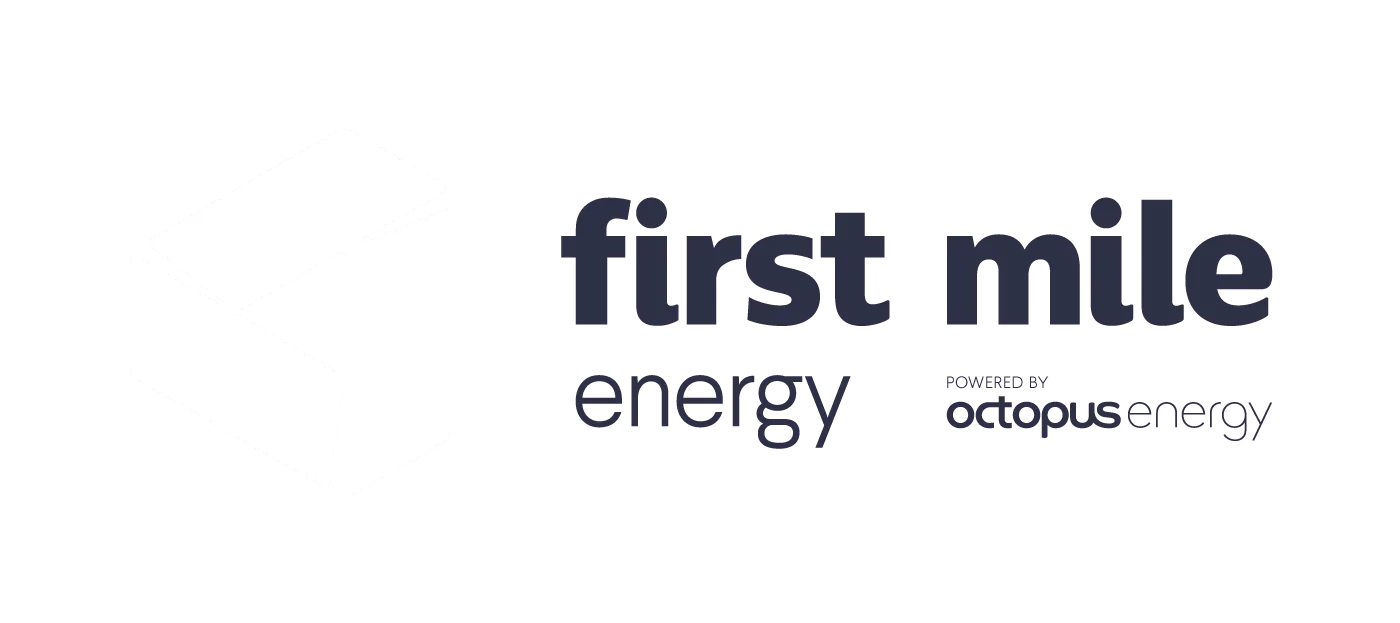 Business Energy FAQs
How will I save money?

As soon as you get your quote, you will see your estimated business energy savings based on your energy usage, and a saving based on a per KWH energy consumption level.

On top of this we will give you £100 credit once you start using First Mile Energy.

First Mile compare business electricity and commercial gas prices constantly to ensure we are getting you the best deal on the market. This keeps our prices low compared to many other business energy suppliers.
Do I need to know how much energy I use?

Even if you have no information or don't know where to start, we can help work through the process with you and our easy switch team are available to support at any time.

We can generate your business energy quote a number of different ways;

Estimate your usage – if required we can estimate your usage based on business type. First Mile works with over 30,000 businesses and can benchmark your usage against others.
Use actual usage – If you have your actual business electricity and gas usage to hand, add it to the form above and we can quote based on your actual energy consumption.
Upload a recent invoice – Simply upload an invoice using the form above, we'll analyse it and do the calculations for you.

This enables us to get you the best business electricity or gas deal for your business.
How do I switch?

Switching your business energy supplier to First Mile is easy and hassle free.

Get your business energy quote by completing the form above
If you're happy with the quote, complete the sign-up process by adding a start date.
We'll manage the handover so services switch on that date.

If you need help cancelling your current business energy supplier, our easy switch team are on hand to help.
What is renewable energy?

Renewable energy is a source of power that comes from clean and natural resources. This means that it does not harm the environment around it, nor will it ever run dry. It contains no nasty chemicals or toxic ingredients — it simply generates power. In other words, it does all the hard work for us.

When you think of energy, some not so green resources may come to mind, such as oil, coal, gas and nuclear power. Not only are these destructive to the earth, but they have a huge political history behind them. These industries are backed by governments and powerful businesses because they generate a lot of money. We're talking about billions. Furthermore, a recent report suggests that governments are on track to producing 50% more fossil fuels by 2030.

We just cannot let that happen. For a long time, people have known about the devastating impact that dirty energy has on the environment. Offshore drilling affects sea life and risks oil spillage into our oceans; coal mining, although on the decline, still provides terrible conditions for workers and poisons the atmosphere and gas extraction can cause irreversible deforestation.

But thankfully there is a solution. Renewable energy. With so many different renewable energy types to choose from, it seems ludicrous that businesses, as well as our wider society, use these dangerous resources to fuel our day-to-day lives.
Are both business electricity & business gas renewable?

Our business electricity services are 100% renewable. Gas is not a renewable energy. If your business needs gas supply, we neutralise the environmental impact of this by offsetting it through a CO2 offset scheme.