Recycling your used Cooking Oil with First Mile
If your business produces waste cooking oil, you can't just throw it down the drain or chuck it away with the rest of your waste because of a variety of environmental, legal and hygiene issues. Thus, you need to store it properly and ensure it's taken away by an authorised collector.
Next day used Cooking Oil collection service
That's where we come in. Our next day used cooking oil collection service is stress-free and easy to arrange. We offer you flexibility in pickup times alongside 24/7 support in case you need our help. We'll improve your business recycling process with efficient cooking and vegetable oil recycling that's zero-to-landfill and fully compliant with all regulations.
What can go in Cooking Oil Recycling?
Residue from grease traps
Your guide to recycling Cooking Oil
If your business creates used cooking oil - even a small amount - it's essential that you understand why and how restaurants dispose of cooking oil correctly.
That's why we've created this handy guide covering everything you need to know about recycling your Cooking Oil, from the best, most cost-effective ways of disposal to the implications of pouring Cooking oil down the sink.
Click here to read First Mile's Guide to recycling Cooking Oil.
Why use First Mile for Cooking Oil Recycling?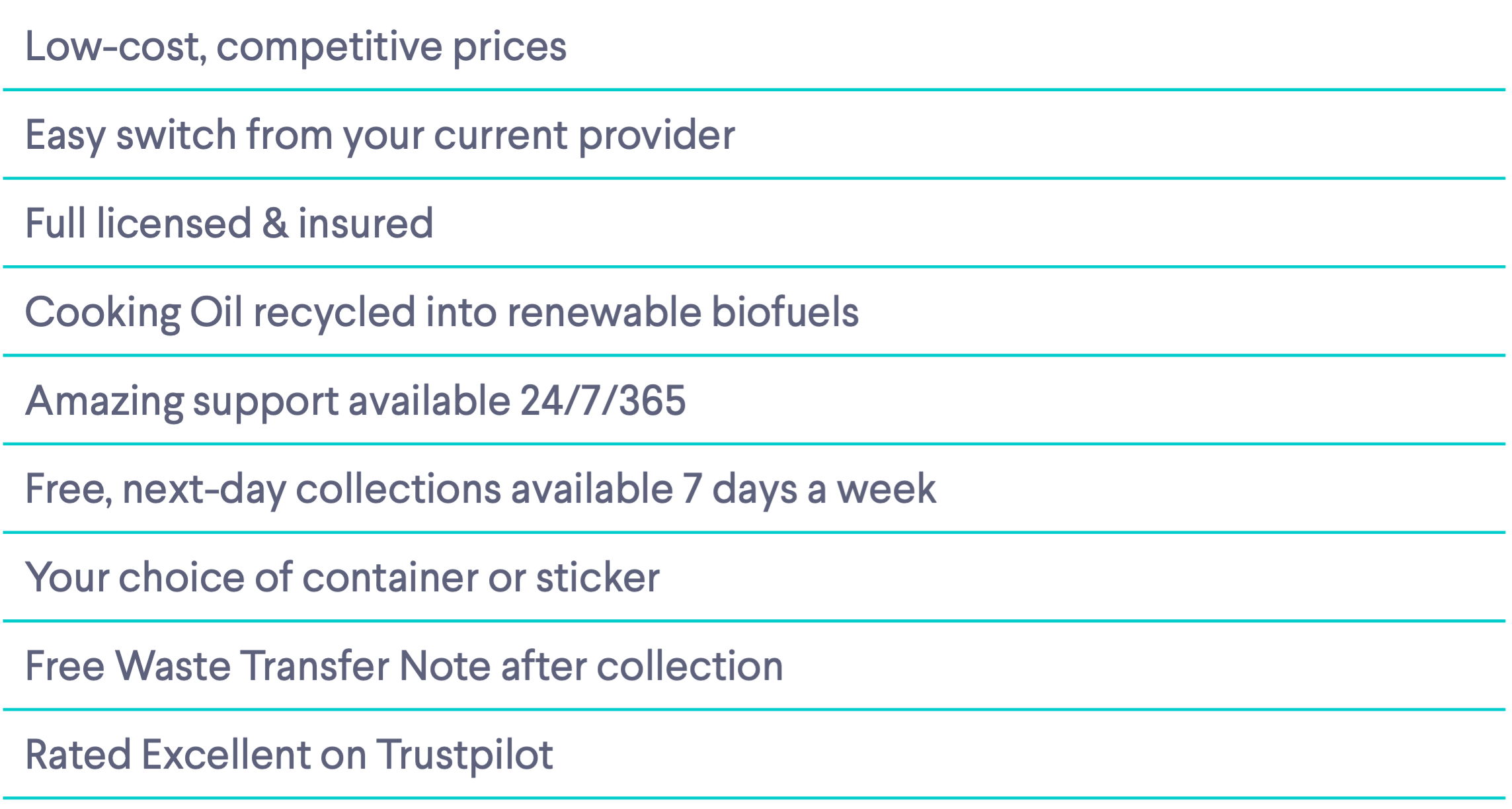 Why you should recycle used Cooking Oil
Why is it so important that you do your waste vegetable oil recycling properly?
Well, tipping it down the drain creates bad smells, blockages, vermin issues and polluted watercourses that can impact the local eco-system. Throwing it away can also create smell and pollution issues on both soil and water, plus your general waste contractor will likely refuse to remove the waste. On top of that, you may face prosecution if you choose to dispose of it improperly, so it makes sense to find a reliable cooking and vegetable oil collection service.
Cooking Oil FAQs
How to dispose of used cooking oil in the UK?

The first step is to speak to a business waste partner, such as First Mile about your recycling needs, such as the amount of Cooking Oil you need to dispose of and how often you like collections.

Once you've ordered your Container or Sticker, we'll deliver it the next day and return to collect your Cooking Oil on your chosen collection date.

Our cooking oil recycling process is simple, efficient and produces an ideal, eco-friendly end product. We'll pick your used oil waste up from your business at a time that suits you and make sure it's properly stored in bulk containers before passing it on to a waste vegetable oil recycling specialist. From there, your old cooking oil gets converted into bio-diesel – which is organic, carbon neutral and cheaper than fossil-fuel diesel.
What happens to Cooking Oil after it's been collected?

When your cooking oil is collected, it starts an impressive recycling journey at a specialist processing facility. Through a series of filtration and purification processes, contaminants and water are removed, and then, a complex chemical process separates biodiesel from other by-products.

After another round of purification, the recycled cooking oil has officially become biodiesel - and is then ready to be used as a more eco-friendly fuel for vehicles, as heating oil, or as a cleaner-burning alternative to traditional diesel in industrial machinery and equipment.
Why use First Mile to recycle Cooking Oil?

As one of the leading waste management companies in London, Birmingham and the UK, First Mile has already helped over 30,000 businesses to reduce their carbon impact with our range of recycling services - with over 200 new businesses signing up each week.

By choosing First Mile, you'll benefit from a low cost, reliable service, a 24/7 helpdesk, and free monthly reporting. You can view our accreditations above and our certificates and insurances here.
How soon can I set up a waste collection waste disposal?
Is there restaurant cooking oil recycling near me?

Yes, at First Mile we offer nationwide Cooking Oil Recycling Services around the UK. In the unlikely event that we don't cover your area, we'd be more than happy to give you some pointers on how to find a recycling partner that shares our environmentally friendly practices and zero-to-landfill promise.
Which Cooking Oils can be recycled?

If asked to picture cooking oil, most people will think of the oil that's used to give a portion of fish and chips its glorious golden colour. In actual fact, the term 'cooking oil' can refer to a wide variety of fats used in cooking and food preparation.

Some examples Include

Liquid oils: Including olive oil, sunflower oil, palm oil, corn (maize) oil, sesame oil, and coconut oil. These oils are often used for frying, sautéing, and baking.
Grease: This refers to the fatty substances that are derived primarily from animal fats. It's the residue you often find after cooking meats, especially pork, lamb and beef.
Butter and Margarine: Whether melted to use for cooking or used as a spread.
Lard: Usually created using pork fat and used in baking and frying.
Shortening: A solid fat used to make pastries flaky and crumbly. It can be made from animal fat, vegetable oil, or a combination of the two.
Ghee: Clarified butter that has had the milk solids removed, popular in South Asian and Middle Eastern cuisines.
Residue from grease traps: For any grease or fatty leftovers trapped after making their way into the dishwasher or washing up sink.