A host of events across London and Birmingham has seen us meet new faces, educate on the world of waste & recycling and share our passion for the planet. Chatting everything from compostable packaging and coffee recycling to clean air strategy and the future of waste, here's a sneak peak of what's been going down…
1. The future of waste
Bruce, our Founder and CEO, spoke at CIWM's Resourcing the Future Conference, where he shared the barriers to waste segregation and what the waste industry and businesses can to do to overcome them. (More on this in a future blog post…)
2. Brands and sustainable fashion
Our Strategic Partnerships Director, Lily Gray, headed up a panel at the Telegraph's Responsible Fashion Forum, explaining how the Fashion industry needs to make sustainable fashion obligatory, and not a choice. She also discussed how brands must take responsibility for their products at the end of life, taking the lead from Hunter and First Mile's RecyclebBox partnership, which offers consumers the opportunity to recycle their worn and damaged boots.

3. Lambeth Clean Air Week
Account Managers Hannah and Tom chatted to local businesses about increasing recycling rates in Lambeth and First Mile's positive impact towards clean air in the borough during their series of events to celebrate Clean Air Week.
4. Compostable packaging recycling
Josie, our Strategic Partnerships Manager, shined a light on The Future of Compostables in Packaging at the Bio-based & Biodegradable Industries Association. She explained the do's and don'ts when it comes to recycling these tricky materials.

5. Making the right sustainable choices
Once again Josie joined a panel of excellent speakers at the Oceanic Standard UK launch event discussing real sustainable solutions for businesses and how they can avoid falling victim to so-called greenwashing.
We were also proud to be represented at all of these fantastic sustainable events: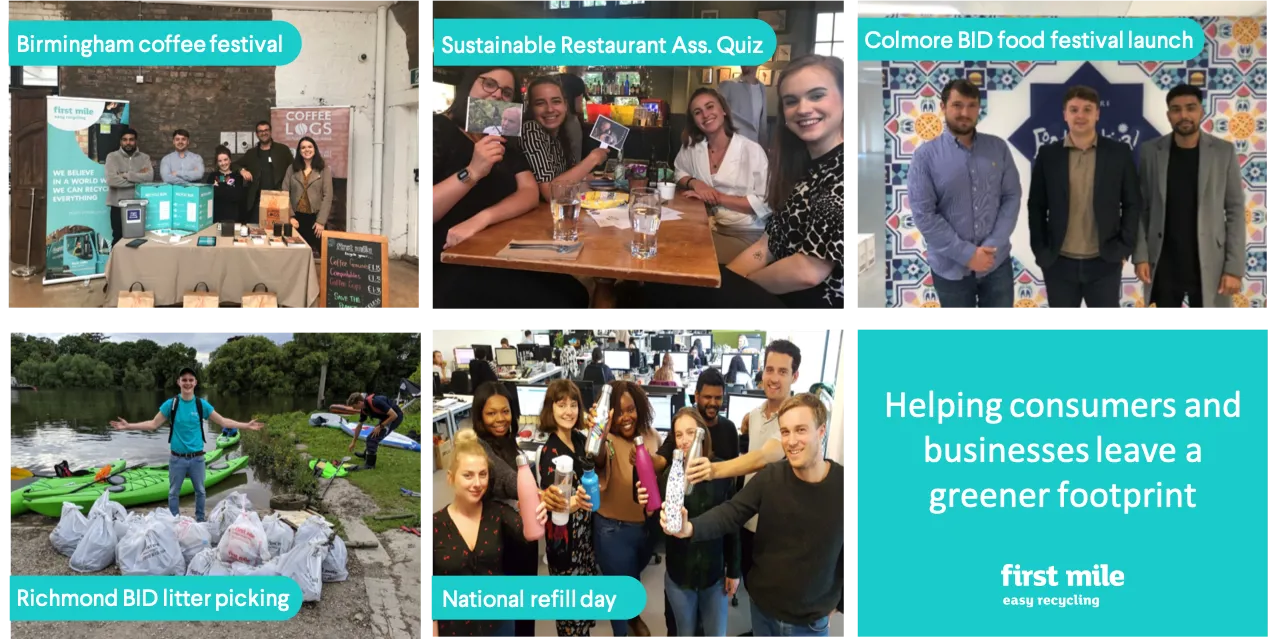 One month, 10 events and 5,000+ participants as we spread the word on sustainability. Bring it on, July!