It's now even easier for homes and businesses throughout the UK to work towards a zero-waste lifestyle and have a positive impact on climate change, thanks to a suite of new services from First Mile and its innovative RecycleBox service.
RecycleBox is an easy and low-cost courier service offered to both businesses and homes throughout the UK that want to do their bit for the environment. The box can be filled with hard-to-recycle items or items that are not traditionally recycled through household or commercial waste services, with prices starting at just £20.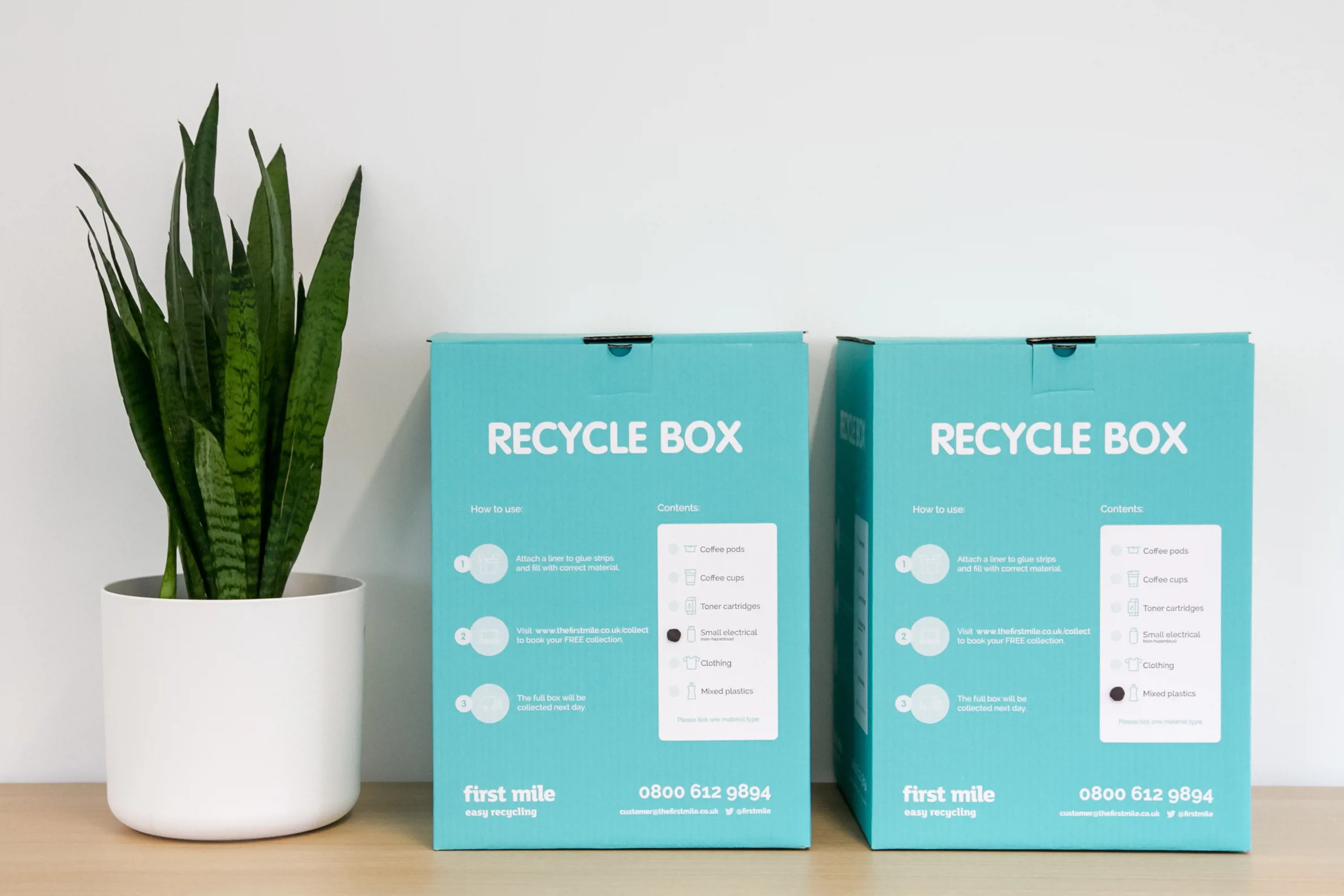 RecycleBox was created by First Mile last year to help the UK reach its ambitious recycling targets and overcome its stagnant household recycling rates. Recycling has a positive impact on climate change by reducing carbon emissions. It does this by avoiding the extraction of new and natural resources, reducing emissions from landfill and incineration and saving energy in the manufacturing process compared to the use of virgin materials.
New materials added to the RecycleBox service include:
• Makeup and beauty packaging - from foundation tubes to mascara wands and moisturiser tubs.
• Snack packaging – including crisp packets, sweet and chocolate bar wrappers and popcorn packets.
• Food and drink pouches – from baby food and juices to pet food and toothpaste packaging.
• Flexible plastics – including plastic carrier/grocery bags, cling film, plastic seals and bubble wrap.
• Tennis balls - giving balls that don't bounce as they once did, a new life.
• Water filters - all components and all brands, including bottle filters and packaging.
Once RecycleBoxes are received back to First Mile's dedicated sorting facility, the Sacktory, items are sorted by their material type and sent for reuse or recycling. Many of the newly-introduced recycling streams will be sorted based on the grade of their plastics content and then granulated to be used in new plastic products. Those tennis balls that are able to be re-inflated will be sent for a new life, including donations to schools and children and animal charities.
With its environmental expertise and large network of partnerships, First Mile often identifies solutions for hard-to-recycle items to help businesses and consumers towards zero-waste recycling life. Where this isn't possible at all, First Mile will offer advice to the brand concerned, focusing on a credible circular economy solution where a product's material will have a useful second life.
Founder and CEO of First Mile, Bruce Bratley, comments: "More and more of us are realising that our environmental actions can have a positive impact on the climate crisis and recycling is a great place to start. We have big ambitions for our innovative RecycleBox service in 2020, especially around those everyday items that people find hard to recycle through traditional recycling services. With that in mind, it's great to be able to announce this raft of items that we can give a new life to, as we continue to make it easier for everyone to maximise their zero-waste recycling efforts and help combat climate change."