If you're based in London, the chances are you're already aware of the pollution levels in your city. In fact, we recently discussed how, for the last decade, the capital has surpassed its legal annual air pollution limit within the first month of the year. Worse still, sometimes this has happened within a few days.
With this in mind, we at First Mile decided to explore where the UK's greenest cities are and investigate what makes these urban areas eco-friendlier than others. We took existing data and combined it with fresh research to find the least polluted places on the map.
So, which UK city is the greenest? And how does London fare in comparison? Read on to find out…
Eco-Friendly Stats
Before we get to the results, it's worth looking at how they were achieved. All 21 cities we looked at were assessed on everything from recycling and air quality to the number of electric vehicles and green spaces. We also looked at pollution levels, plastics use and levels of disposable fashion consumption.
These resulting stats came from looking at things such as percentage market share of electric charging points and analysis of waste sent for recycling, as well as measurements of gases in the air. To whittle down the figures, we then took the average rank every city achieved for each factor. From there, it was possible to find the overall average, and this resulted in the final list.
A Green and Pleasant Land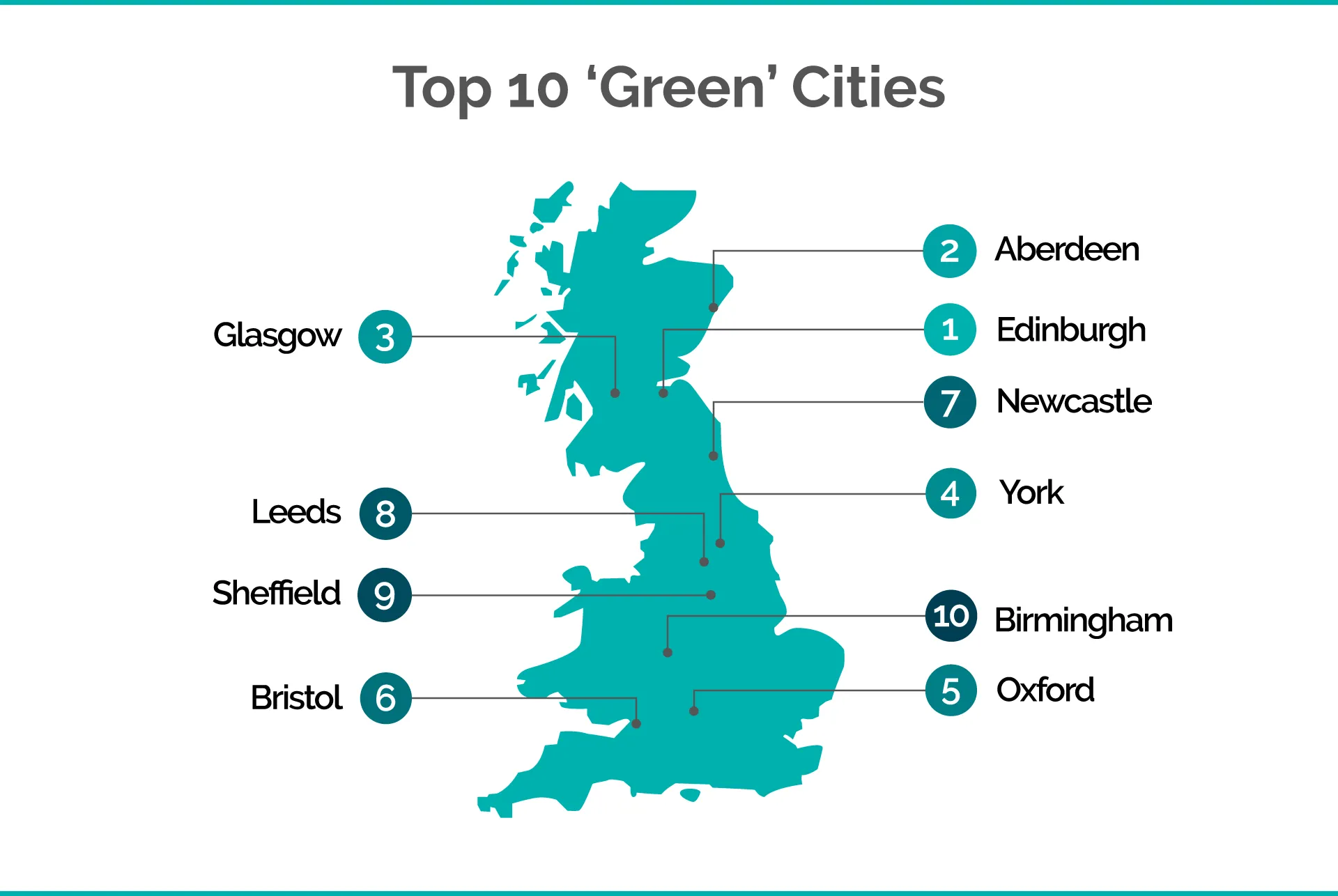 Scotland is home to the UK's greenest cities, with Edinburgh taking the top spot, followed by Aberdeen and then Glasgow coming in third. With these cities making make the top three, it's clear that, based on these stats, Scotland is the eco-friendliest country in the UK.
English cities make up the rest of the top 10, with the cycling cities of York, Oxford and Bristol coming in at fourth, fifth and sixth place respectively. Newcastle came seventh and Leeds eighth – home to Roundhay Park, which, with over 700 acres of parkland, is one of the largest city parks in Europe.
Sheffield came in at ninth place and, rather surprisingly given its status as the third-largest by population, Birmingham is the 10th greenest city in the UK.
High Achievers

Some of the areas that Scotland's cities scored highly in include accolades such as being the best major city for green space (Edinburgh) and the best major city for air quality (Aberdeen). Edinburgh is also the best major city for having low pollution levels, while Glasgow is the best major city for low plastic use.
Elsewhere, York topped the list for recycling (per capita) and for having low disposable fashion consumption.

Interestingly, while London doesn't feature at all in the top 10, the capital is the best major city in the UK for its market share of electric vehicle charging points.
While on the subject of London, it was important to include the city in the research in order to get an idea of where its eco-friendly areas can be found.
Green London
To do this, 33 London boroughs were analysed using similar research to that for the rest of the UK cities.
Just four areas were considered for London, however, due to insufficient data. These areas cover recycling, air quality, plastics use and disposable fashion consumption levels.
The resulting top 10 is a real mix of inner and outer areas, offering an insight into how well different green factors are managed across the capital.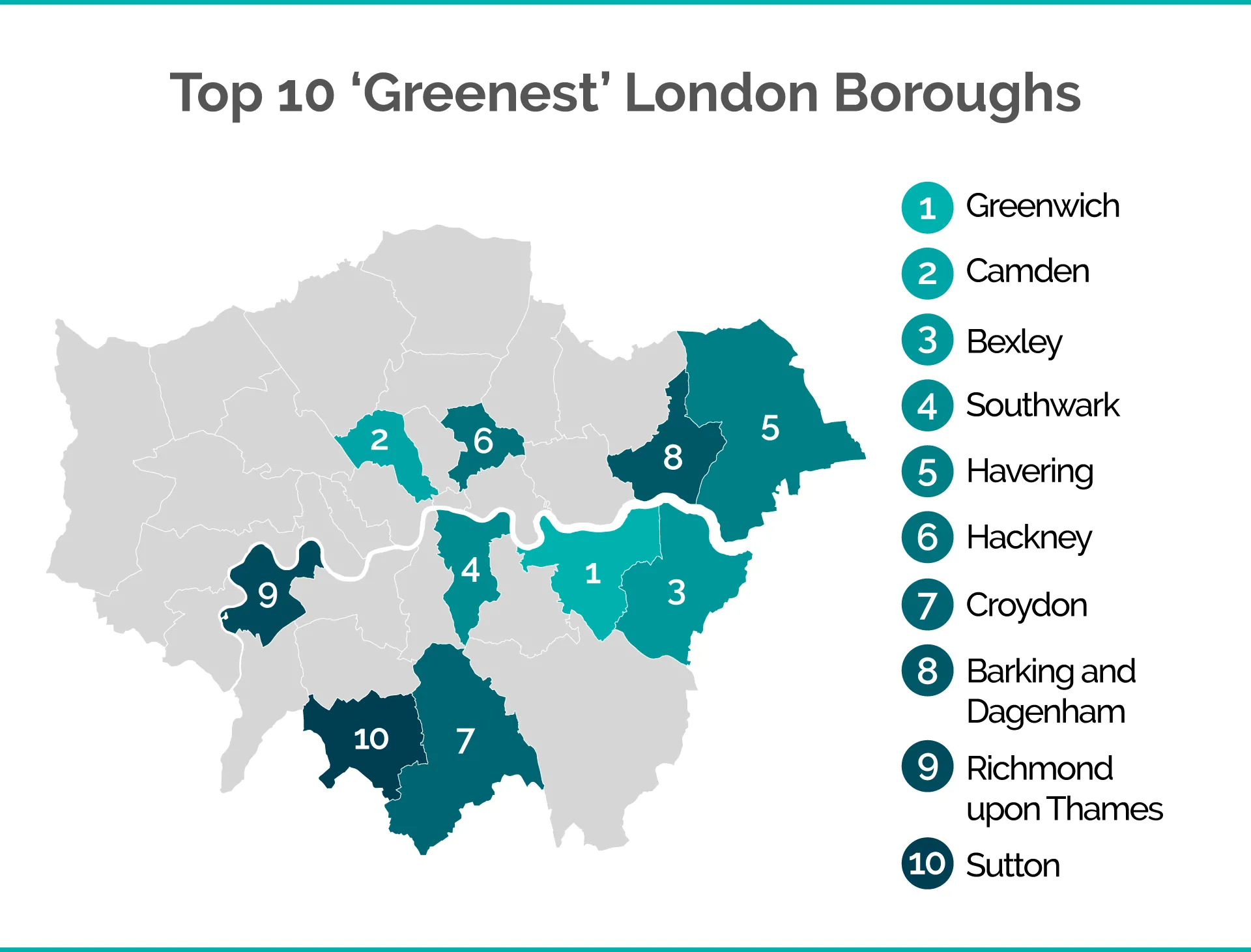 Rather fittingly, given its name, Greenwich is the greenest borough, followed by Camden and Bexley.
The rest of the top five comprise of Southwark and Havering. Coming in at sixth place is Hackney. Croydon, Barking and Dagenham, and Richmond upon Thames are seventh, eighth and ninth respectively, while Sutton takes the 10th spot.
Winning Areas
Even though it came in at number three overall, Bexley scored highest for recycling (per capita). You'll find the best air quality in Havering, Barking and Dagenham, Redbridge and Islington.
The borough with the lowest plastic use is Redbridge. Also, given its abundance of vintage stores and its market, it's perhaps unsurprising that Camden is the best London borough for low disposable fashion consumption.
So, while London hasn't got the best track record for its pollution management, there are plenty of other environmentally friendly credentials on offer here. Meanwhile, with its chart-topping cities that tick an array of eco-friendly boxes, you'll find Scotland stands head and shoulders above other countries when it comes to being green in the UK.
Header image courtesy of iStock.