London's leading recycling company, First Mile, has invested in a fleet of four custom-built electric bikes to boost recycling in the capital while helping to drive carbon emissions down.
What are First Mile Cargo Bikes?
This latest innovation is part of First Mile's strategy to decarbonize its entire collection operation. First Mile's custom-built bikes can each carry 250kg of recycling, while working silently across the capital with zero emissions. Each bike operates on one small battery charge, which can cover 25 miles per day – an ideal operational range for urban collections. One bike has the same operational capacity as a 3.5tonne small van-sized vehicle, while saving 20.26 kg of CO2 emissions per day in comparison. The fleet is ULEZ compliant and congestion charge exempt.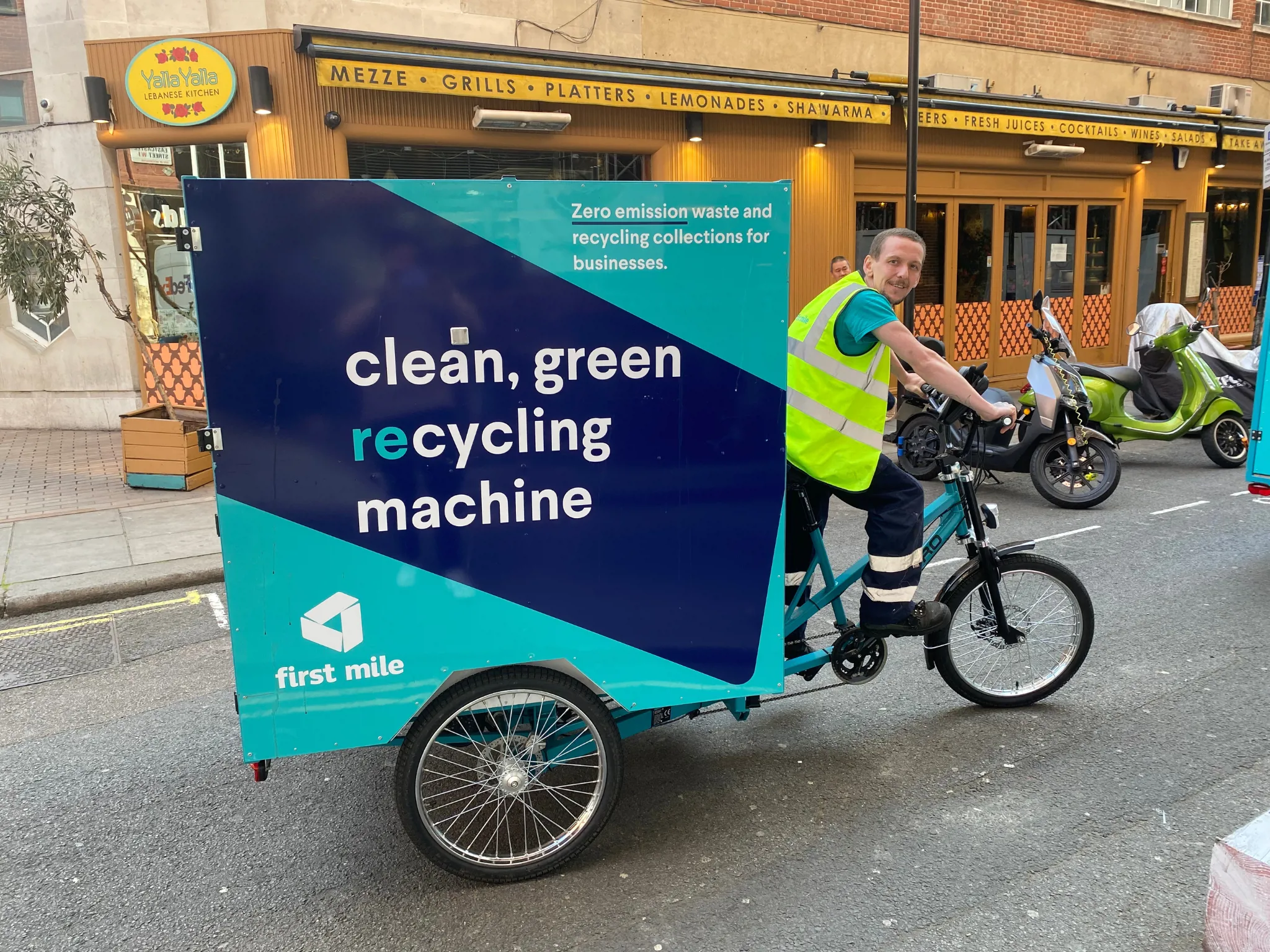 The move responds to the changing focus within cities on initiatives such as reduced traffic, pedestrianization and increased cycling, often combined with an emphasis on low or zero-emission zones. These changes mean that delivery and collection operators increasingly need to transform their operations to reduce their urban impact, both in terms of emissions and road miles.
Speaking about the new fleet, CEO at First Mile, Bruce Bratley, said: "We're delighted to have introduced another innovative tactic to reduce congestion and improve air quality in London, while we improve recycling rates across the capital. Our customers love the new bikes and how easily they blend into the street scene, and their introduction has meant we've been able to provide four new jobs. The fact that they are so small and easy to operate means we have better access to areas where recycling collections have historically struggled, such as back streets and mews."
First Mile's commitment to low and zero-emissions

As suggested by its name, First Mile was established to tackle the challenges often presented by the first mile of the recycling supply chain. These challenges include the need to collect recycling from thousands of businesses, separate various recycling streams and consolidate the material for reprocessing.
Since its inception in 2004, First Mile has led the way in building a low and zero-emission, minimal impact first mile of the recycling supply chain. Over the years, the company has introduced a number of measures, including ULEZ-compliant vehicles, electric vehicles and deliveries by cargo bike.
The new fleet of bikes were designed and built by cargo bike and pedicab rickshaw manufacturer, Maxpro, and have much lower embedded carbon in the production of the bikes and their batteries, compared to traditional vehicles. Andrew Lozinski, MD at Maxpro, commented: "It's been a great challenge for Maxpro to work with First Mile on this totally new waste collection trike project. We are glad that our experience in the design and manufacturing of CO2 emission-free vehicles - which have historically been dedicated mainly to the last mile deliveries - can now be transferred to the first mile segment of the sector."
First Mile operates city centre hubs for deliveries and collections and, in some areas, works with partners, such as Grosvenor, to consolidate material locally before it is collected by a waste vehicle.
Welcoming First Mile's latest innovation, Andrew Creamer, operations strategy and performance director at Grosvenor, said: "We are delighted to be working with First Mile on waste and recycling collections by bike, supported with local consolidation at a vacant Grosvenor site. We have already seen an improvement in the street scene, customer feedback is extremely positive and I am delighted there is less traffic on the streets of Mayfair."

About First Mile
Founded in 2004 by Bruce Bratley, First Mile makes it easy for UK businesses to recycle and improve corporate sustainability. Serving over 27,000 customers, First Mile collects 65,000 tonnes every year, with a focus on closing the loop where possible. First Mile is at the forefront of the waste industry, investing in technologies and continually innovating to transform how businesses recycle, manage waste and reduce their impact on the environment.
First Mile can recycle over 20 different types of materials, from the usual suspects of paper, cardboard, plastic, glass and food, to the more obscure such as coffee pods, textiles, light bulbs and cooking oil. With a no landfill policy, anything that can't be recycled is turned into green energy.