With more of us than ever talking about the climate crisis, companies are increasingly shifting to more sustainable business practices. This matters to employees. In a recent study, 65% of UK-based office workers said they'd be more likely to work for sustainable businesses.
If you want to become an eco-friendly business this year, here are 10 planet-saving ideas to inspire you!
1. Recycle paper – or go paperless


In the digital age, we don't need to rely on paper. Reduce (or better still, stop if possible!) your use of paper and switch to one of the many apps or programmes that allow you to run a paperless office. Cloud-based filing systems ensure that you'll never again lose those vital documents just before an important meeting!
If you do need to use paper, try to go for recycled paper (like First Mile's very own planet-friendly stationery).
And remember to recycle the paper and cardboard you do use with our cost-effective Paper Recycling and Cardboard Recycling services.
2. Be an energy efficient business


There are loads of simple things you can do to become more energy efficient, such as using LED lights, lights with sensors and smart thermostats
And if you want to become a company that runs on renewable energy, First Mile Energy can help. Swapping to a renewable energy supplier will reduce your carbon footprint, as well as reducing business costs and improving your company image. It can even work out cheaper than typical energy tariffs!
3. Reduce your business waste


Wondering how to cut down on office waste? You could start by encouraging the use of reusable coffee cups and water bottles, installing air dryers instead of offering paper towels and buying your kitchen supplies in bulk.
Furnishing the office doesn't have to mean paying £££ for brand-new furniture. Buy second-hand furniture when you can and save all those raw materials from being tossed into landfill is a great way to reduce your businesses environmental impact. Look for gorgeous vintage pieces or recycled furniture instead.
4. Recycle everything!


Reduce how much of your business waste ends up in landfill by using a trustworthy, reliable, cost-effective recycling service like First Mile. By law, all companies need to demonstrate they're doing everything they reasonably can to prevent, reuse, recycle or recover their waste.
First Mile offers a whole range of business waste and recycling services for all sorts of tricky materials – and will provide you with the necessary waste transfer note to prove you're managing your business waste legally, as well as helping to monitor your carbon and recycling impact!
We even provide bright and colourful posters to encourage employees to easily sort their waste by material, great for embedding recycling into your company culture.
For anything you don't recycle we also offer General Waste services, with nothing going to landfill.
5. Compost your kitchen waste


Convert your office Food Waste into fertiliser for farms, gardens or parks or convert it into natural energy forms (much more environmentally friendly than fossil fuels).
First Mile's food recycling service sends food waste to make renewable energy and costs much less than general waste.
There are other green practices you can implement in the office kitchen too, shopping for produce at a local farmers market is a great way of reducing your food's carbon impact as well as supporting local businesses.
6. Use environmentally friendly products


Make sure the products you use and the suppliers you team up with share your values. You can start by using green cleaning products, such as Delphis Eco. These are made of 100% recycled plastic and are 100% recyclable.
Other eco friendly companies, such as Ecover, Method and Smol, also offer refillable bottles or only use recyclable packaging.
7. Think about carbon insetting


Consider carbon insetting, where a green business invests in projects and activities that take carbon out of the atmosphere. It's similar to carbon offsetting, but it means you take direct responsibility for carbon emissions in your own supply chain rather than paying someone else to handle them. This reduces your company's carbon footprint and creates a more sustainable business model.
There are plenty of Gold Standard carbon offsetting schemes, but by investing in carbon insetting a company can retain more control over where its money is going.
8. Encourage remote working


Since the pandemic and the 'Great Resignation', remote work has taken off. Employees now expect more flexibility and a better work-life balance. This is also good news for the environment, reducing carbon dioxide emissions, as well as improving air quality.
Bearing in mind that a car produces about 4.6 tons of carbon dioxide every year, just think how much pollution could be saved with fewer cars on the roads.
Remote working also helps businesses keep operational costs down and saves on office space.
9. Use reusable bags and packaging


Use reusable cloth bags imprinted with your company logo (in planet-friendly water-based ink of course). These have the added advantage of providing you with free advertising!
New types of recyclable, reusable and compostable packaging are coming out all the time. These are popular with consumers, who are increasingly turning their backs on single-use plastics and other unsustainable options in favour of products made from sustainable materials.
10. Encourage 'green travel'


Offering your staff paid 'journey days' so that staff can travel by train, coach or boat can help the planet and boosts your green credentials, all the while keeping your employees happy. Winner! Take a look at Climate Perks from climate charity, Possible, for more information on their scheme.
So what are you waiting for?! Make 2023 the year your business goes green. Why not take the first step today with First Mile?
How First Mile can help you become even greener in 2023?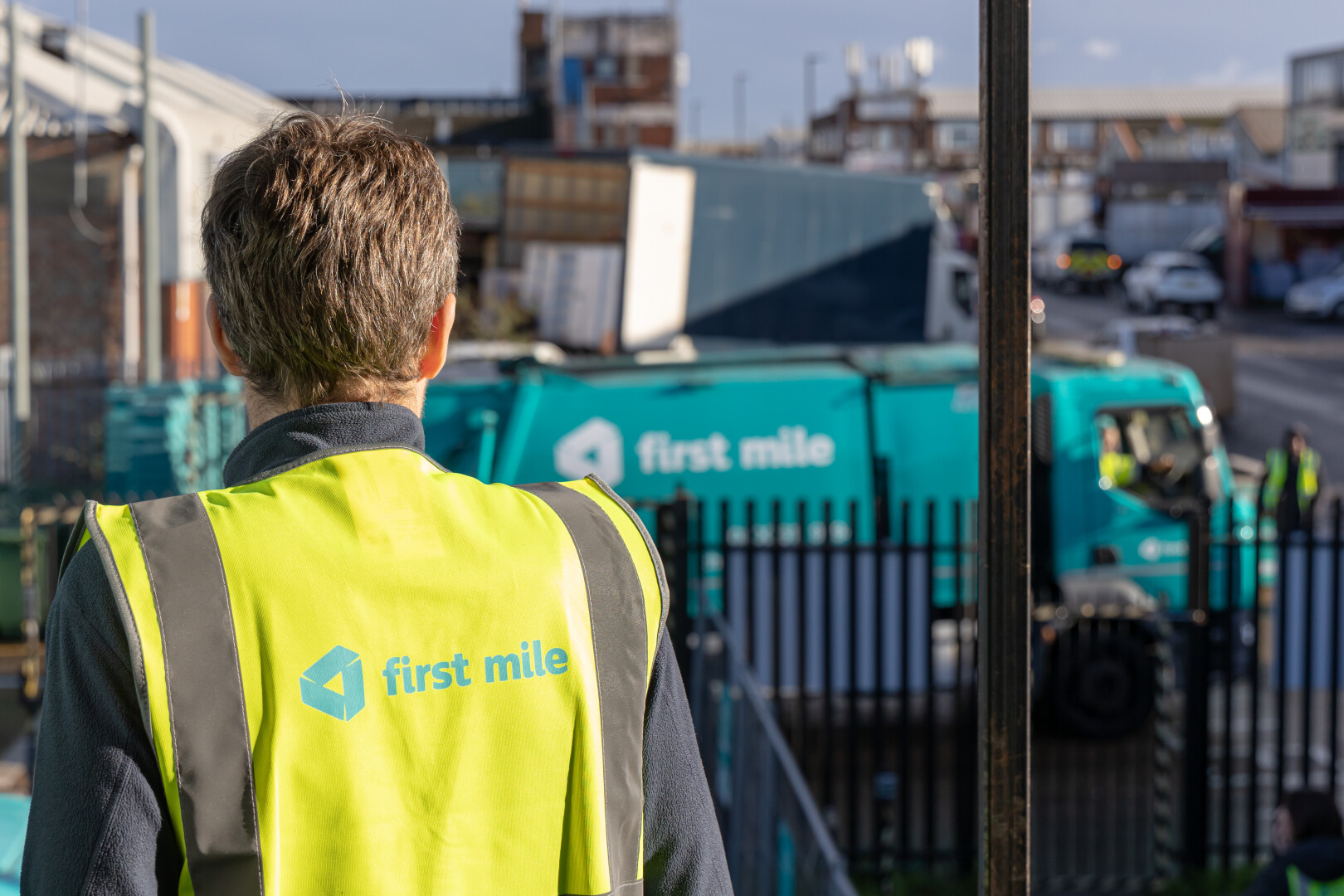 Measure your business' environmental impact by booking a carbon demo today.
Once we've calculated environmental performance, we can support your business in reducing your carbon footprint by implementing sustainable practices.
By increasing your recycling rate, you'll reduce your carbon footprint, cut your costs and put your net zero strategies into action.
Click here to join the thousands of green businesses already using First Mile to reach their sustainability goals.
By First Mile